This month batch of reviews!
About a late night NYC talk show host whose topics mostly deal with etiquettes and day to day minor aggravations ( cutting queues, inconsiderate drivers etc).
It was ok. The story deals with how the main character deals with her past, romantic attachments and friendship. And her outlook on life basically.
Basic chick lit. Except it feels not quite there. The character feels like a caricature. I would be more interested to read about her best friend. Her struggle on her life is actually just.. common sense. Yes. I don't like the main characters and most of the time the banter between Jeannie and Nicholas went far too long which turn off the charm.
It all feels a little lackluster even if Jeannie is very passionate. Sorry. It all feels blah to me
A story of an Aztec girl during the height of Tenochtitlan era, just before the Spanish invasion. She was born from a twin, a brother who was prophesied to be great and she was prophesied to be nothing, and even to bring doom to all.
I like the story, I understand that it is not that historically accurate but whatever the author fabricate is quite wonderful.
The girl seems distant, but reachable. Her struggle is familiar even to us the modern women, that we are sympathetic for her but we never think of her as weak.
It is quite predictable on how the plot goes but the writing is fast, attention grabbing and end quite satisfactorily. So I enjoyed this book. Never dull.
Highly recommended as YA read.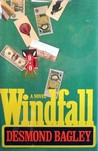 Synopsis:
Jan Willem Hendryk's legacy amounts to a staggering £40 million - £34 million to go to an agricultural college in Kenya's Rift Valley, and the remaining £6 million to be divided equally between his only surviving descendants: Dirk, a South African, and Henry, a young drop-out living in California. But a number of suspicious circumstances emerge, including a clause in the will stating that Dirk must spend one month of every year in Kenya. What seems at first a simple matter of greed gradually assumes sinister proportions.
Fast paced story. I like it enough though I mostly am never interested to read story if there is no women featured prominently, but I quite like this book.
I like how it gave the background on the Africas state at the time, it explained the complex history and politics of the Africas nation to something we can comprehend, and deliver the story in a climactic way.
It mostly feels more of an investigative novel, and then there is the big action scene at the end to wrap the story. No twist and turn, but I guess because of that I kind of enjoyed it. Good roundup characters and even the villains I felt sorry for. And the 'sinister proportions' is not that sinister to me. Haha.
Will not mind to read another book by the same author.